Youth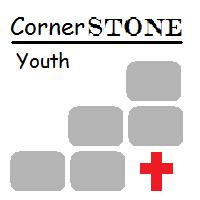 Middle and High School are fun... but they can also be frustrating, confusing, and even scary at times for teens. The Cornerstone Youth Ministry's goal is to teach and encourage teens with their parents to find peace, joy, and satisfaction in life as they apply the Good News of our Rescuer, Jesus Christ, to all areas of their lives.
For current youth ministry information, please visit the
youth blog
. On it, you'll find current information about what is being taught during youth group and how you can follow that up with your youth. Also, there is information on current events and how you can join and even help out.
There is also a place to subscribe to the blog, providing you will daily emails of updated material, keeping you in the know.
Youth Group
Youth group meets every Sunday evening from 5:30- 7:30pm as part of Cornerstone's Big Gathering. It is a great place for fun, building meaningful relationships, and discussing God's Word. There will be games, food, music, and teaching of God's Word. I... [
more
]